Advocacy Made Easy
We change lives by making it easy to advocate and get policy wins. Influence city/county councilors, department chairs, state/federal legislators, or any decision-maker. ( US & CA )
"Ujoin has been foundational in our organization's advocacy strategy since 2016. It delivers an easy-to-use interface for advocates to reach their intended audiences via testimony or letter-writing campaigns. It also has features that allow us to track bills as they advance. We've searched for a great online tool to make testifying easier for our supporters, this is the one for us."

Jeannine Souki

Executive Director
Hawaii Public Charter School Network
"We needed a tool that would allow us to send targeted email campaigns to state lawmakers in order to show our supportor opposition to legislation relative to our new members. Ujoin made building and sharing targeted campaigns quick and simple. Ujoin is affordable and user-friendly. The Ujoin staff are also readily available to help with questions and set-up. Thank you Ujoin for helping my Association take action during the WV Legislative Session!."

Meghann Siaven

West Virgina School Service
Personnel Association
Our Features
Run grassroots campaigns like you never imagined.
Action Pages - Styled Your Way
Twitter, Email, Click to Call, and Video messages to city/county councilors, state/federal legislators, department heads, and other decision-makers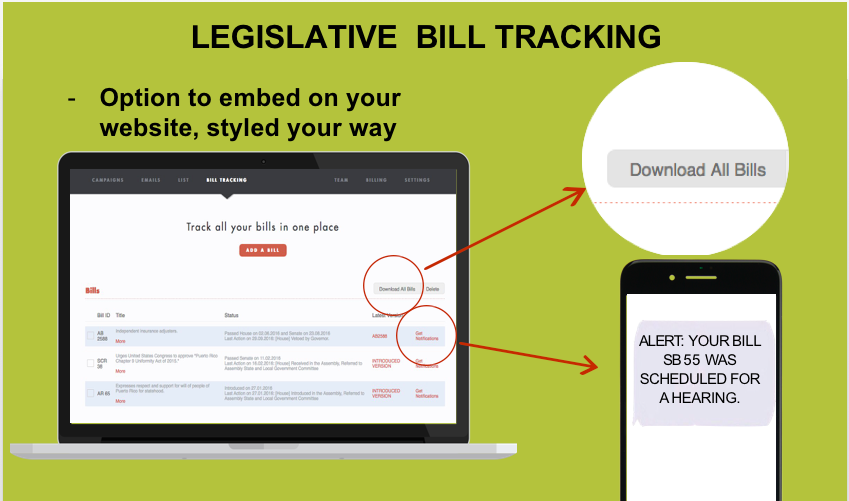 Track bills in your dashboard and get email or text message alerts whenever something changes with one of your bills.
Download all of your bills as excel file for reporting
Embed your bill tracking on your website for your audience to follow and link them to your action pages
Links to the actual bill page to read the bill text for easy reference
Bills are automatically updated in real time
Display optional live bill data with your action pages.
Plans and Pricing
All plans start with a 5 day free trial.

FREE
Bill Tracker

$99/mo

Grassroots

$149/mo

Grassroots Pro

$249/mo

Enterprise

Call for Quote

Unlimited Petitions w/ Optional Bill Data*

Track Bills (50 states & federal)

Bill Notifications (text msg & email)

Disply Bill Tracker on Website*

Click to Download Excel File for Bill Track Reporting

Unlimited Action Pages w/ Email to Targets*

Customize Embeded Action Pages on Your Website (optional)*

Add Bill Data to Action Pages (optional)*

Unlimited Email Newsletters to Your List by Legislative District*

Action Data, Click-Through & Open Rate Metrics

List Management Dashboard

Option to Manage Multiple Organizations for Distributed, Chapter-Based Organizations

Unlimited Action Pages w/ Twitter, Click to Call, & Email*

Totally Customized Action Pages & URL*

*Mobile Optimized for Viewing on Smart Phones

Click to Sign Up
$99/mo
$149/mo
$249/mo

Call for Quote
Unlimited Petitions w/ Optional Bill Data*
Track Bills (50 states & federal)
Bill Notifications (text msg & email)
Disply Bill Tracker on Website*
Click to Download Excel File for Bill Track Reporting
Option to Manage Multiple Organizations for Distributed, Chapter-Based Organizations
Unlimited Action Pages w/ Email to Targets*
Customize Embeded Action Pages on Your Website (optional)*
Add Bill Data to Action Pages (optional)*
Unlimited Email Newsletters to Your List by Legislative District*
Action Data, Click-Through & Open Rate Metrics
List Management Dashboard
Unlimited Action Pages w/ Twitter, Click to Call, & Email*
Enterprise
Call for Quote (above included)
Totally Customized Action Pages & URL*